Rage card depicting Volcheka Ibarruri in Homid form
Name:

Volcheka Ibarruri

Gender:

Female

Species:
Tribe:
Auspice:
Totem: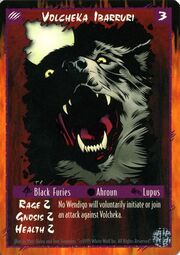 Volchecka Ibarruri is an Ahroun Black Fury. Her first name means "wolf-lover", her last name is a tribute to a Spanish revolutionary. She is a young Fury who is waging a war against the wolf-hunters of Alaska. She often doesn't kill her victims outright, she often simply maims them and leaves them bleeding on the outskirts of the nearest town as a form of psychological warfare, deterring other would-be wolf hunters. The authorities believe it to be the work of environmental terrorists, but she is in fact, working entirely alone, even disdaining the aid of other Garou. Her apparent immunity to cold and her seeming ability to control arctic storms have lead to speculation that she serves Wendigo.[1]
References
Edit
↑

Tribebook: Black Furies, p.56
Ad blocker interference detected!
Wikia is a free-to-use site that makes money from advertising. We have a modified experience for viewers using ad blockers

Wikia is not accessible if you've made further modifications. Remove the custom ad blocker rule(s) and the page will load as expected.