Agent Number 13
Edit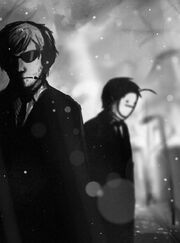 Member of the Technocratic Union since 1999.
Under the comand of the New World Order, working with the Watchers Mehodology to find supernatural individuals, uncover they operations, their advantages and weakness, then cut their resources and send the report to an elimination team.
Derangment: Hyperactivity-Psicosis.
Altern Identities
Edit
Malcolm Andrik Rossberg
Edit
- Tremere 10° Generation
I began to play Vampire: the Masquerade with a couples of friends, after two or three chronicles I decide to try like a Storyteller, this first time was a failure, but I learn about cohesion and metaplot in my own histories, then was when everything started for me to become a real storyteller who specialize in mystery and plots full of deceptions and phyrric victories.
Jaric Ravenclaw, Silent~Howler
Edit
- Shadow Lord Athro
My second character. In this I learn about the Umbra, a fertil ground to imagination and fountain of adversaries. Werewolf: The Apocalypse open my stories to an enemy more powerful and subtle than any antediluvian, and far more siniester: he Wyrm. In this age of roleplaying, I open myself to a greater metaplot and begin to read Mage: The Ascension.
Andrei Krovalenkov
Edit
- Cult of Exatsis Initiate, former Hermetic
First before to start an chronicle for Mage, I used to play it with this character, one of the more human and with the most flaws, this character was the downside and reveres of the Werewolf Hero and the Individualistic Vampire of the other games. A more complex character, filled with inner struggles and defy his masters, his enemies, and the fate itself. In this game I learned about the better roleplaying of flaws over merits.
Then I proceed to create my now everlasting chronicle of Mage/Technocracy, in a World of Darkness more colorful (in a sense) and so many layers, antagonist more righteous than the players' characters and evils that mask behind the face of kindness.
Joseph Kerrigan, Loki's Laughs~at~Night
Edit
- Wandering Nuwisha
Virtual Reality Projects
Edit
Actually working in two Android Apps for roleplaying online.