The Trinity Universe is a science fiction setting using the Revised Storyteller System. While not a game line by itself, it is the shared universe of several additional games. Each game represents a point along a continuum. The common factor in each TU game is the Æon Society, a semi-secret organization dedicated to protecting the human race.
In 2012, Onyx Path Publishing purchased the full rights to the Trinity Universe, and are planning their own new edition, to be titled the Trinity Continuum. As it is no longer a White Wolf product, new releases will not be covered here on the Wiki.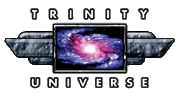 See also
Edit
Ad blocker interference detected!
Wikia is a free-to-use site that makes money from advertising. We have a modified experience for viewers using ad blockers

Wikia is not accessible if you've made further modifications. Remove the custom ad blocker rule(s) and the page will load as expected.