Tribebook: Shadow Lords
is a
sourcebook
for the
Revised Edition
of
Werewolf: The Apocalypse
.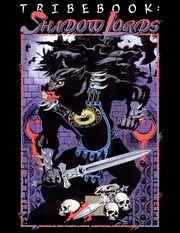 This book expands upon the tribe's appearance in Tribebook: Shadow Lords, taking that classic book and bringing it into a modern context. All-new information accompanies revised material, giving depth to the Shadow Lords characters.
The Gathering Storm
For countless centuries, they have endured the rule of weaker Garou. They have sacrificed their own honor to further the goals of the Garou Nation, and received nothing but scorn in return. They have fought battles nobody else was willing to fight, and made allies that nobody else would approach. Now they are ready to come into their own. The balance of power is about to shift.
Blessed by the Night Sky
The revised Tribebook series now comes to the dark horse of the Garou Nation with Tribebook: Shadow Lords. Explore the hidden paths of power within Grandfather Thunder's tribe, and learn the secrets that drove them down their dark road. Just be careful; there's nothing your fellow Lords dislike more than someone who can't keep a secret.
References
Edit
Ad blocker interference detected!
Wikia is a free-to-use site that makes money from advertising. We have a modified experience for viewers using ad blockers

Wikia is not accessible if you've made further modifications. Remove the custom ad blocker rule(s) and the page will load as expected.