Transylvania Chronicles II: Son of the Dragon is the second book in the four-volume, century-spanning Transylvania Chronicles saga that links the Dark Medieval of Vampire: The Dark Ages to the modern nights of Vampire: The Masquerade.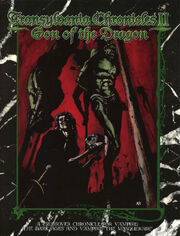 Act I: The Serpent's Lair
(
1472
). The characters escort Vlad Tepes (
Dracula
) to
Yorak
and assist to his death by Kupala.
Act II: Haceldema (1493). The characters participate in the Convention of Thorns.
Act III: Prophecy in Amber (1495). The characters mark a rune to bind Kupala in Arghes Castle and assist to the Embrace of Dracula.
This Vampire: The Masquerade-related article is a stub. You can help WWWiki by fixing it.