For the Chronicles of Darkness sourcebook, see World of Darkness: Asylum.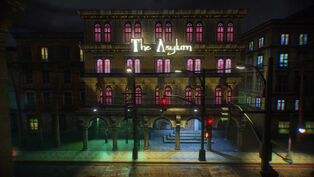 The Asylum is a Santa Monica-based nightclub, owned by vampire businesswoman Therese Voerman and her "sister" Jeanette Voerman. The club is one of their several business ventures within Santa Monica, and their most successful. While Therese runs the financial aspect of things, Jeanette does all the promotional work by supplying loud music and attracting curious clientèle. The Asylum appears in Vampire: The Masquerade - Bloodlines.
The first floor has an elevator which the player can take in order to reach the upper level of the building where Therese's and Jeanette's room is located. The room itself is very interesting, with a huge heart shaped pink bed, Therese's desk where she keeps her computer, and Jeanette's table where she keeps her laptop. The upper floor contains a bathroom, with a heart shaped bathtub. However, the most disturbing aspect of the room is the huge portrait of a tall, imposing man with two small, twin girls.
Someone who doesn't know the sisters' secret can think that the portrait represents their father and themselves as children. However, it is highly unlikely because of the sisters being one and the same person. Another interpretation can be that the man is Therese's sire, an unknown Malkavian Kindred.
Vampire: The Masquerade - Bloodlines
Edit
In the nightclub you can find two blood dolls that can be seduced and used to feed upon; one is by the bar, and the other is on the upstairs balcony. The elevator takes you up to the Voerman sisters' room/office. The ghoul Knoxx can be found here after talking to him outside the Santa Monica Clinic; here he will ask you to 'save him from this Asian vampire'.
Explosive Beginning
The Ghost that Haunts at Midnight
Spiritual Release
Slashterpiece
Bad Blood
Sibling Rivalry
The Asylum is the first nightclub the player enters in the game.
The song played in this club is "Isolated" by Chiasm.
References
Edit
Ad blocker interference detected!
Wikia is a free-to-use site that makes money from advertising. We have a modified experience for viewers using ad blockers

Wikia is not accessible if you've made further modifications. Remove the custom ad blocker rule(s) and the page will load as expected.