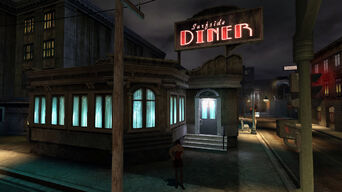 The Surfside Diner is a local restruaunt in Santa Monica, known to attract drug addicts and strange creatures of the night. It appears in Vampire: The Masquerade - Bloodlines. The only known employees are Doris and an unnamed man whose works after hours and allows food to burn on the stove.
In the beginning of the game you will find a strange man standing alone inside the diner. Choosing to talk to him, gives the player limited options. No matter what combination of questions you ask, eventually he becomes defensive and say's "goodbye then..." For those who are observant, his words foreshadow a future side-quest.
Speak to Dorris, ask her about Lily and get information painting a picture of thin bloods.
Therese Voerman sends you to the diner, asking to "reconcile with Jeanette." Once there, a group of thugs are gathered directly by the entrance. Be prepared for a fire fight once near the phones. After eliminating all four would-be assassins, a strange phone conversation will lead to the Asylum and the Sibling Rivalry quest.