Name:

Sébastien Goulet

Gender:

Male

Embraced:
Clan:
Generation:

-8th (originally)

-7th (through Diablerie)

Sire:
Childe(r):
Allegiance:
Sébastien Goulet is a Gangrel antitribu (City Gangrel) of the 7th generation who resides in Montreal. He is the Ductus of the Queens of Mercy Pack.
Biography
Edit
Sébastien enjoys using straight men and seeing how far he can manipulate them into falling for him. He retains his boyish charm and educated manner, so he is rarely unsuccessful. Sébastien then abandons them, watching from behind the scenes as they deal with what they have become.
Character Sheet
Edit
Sebastien Goulet
Sire: Marcus C. Andrews
Nature: Child
Demeanor: Bon Vivant
Generation: 7th
Embrace: 1942
Apparent Age: Early 20′s
Physical: Strength 3, Dexterity 5, Stamina 4
Social: Charisma 4, Manipulation 5, Appearance 5
Mental: Perception 3, Intelligence 4, Wits 3
Talents: Alertness 3, Dodge 2, Empathy (Carousing) 5, Intimidation 3, Intrigue 5, Intuition 3, Leadership 2, Streetwise 4, Style 4, Subterfuge (Seduction) 5
Skills: Drive 2, Etiquette 4, Firearms 5, Performance (Acting, Dancing) 4
Knowledges: Area Knowledge (Gay Village) 3, Bureaucracy 3, Computer 1, Finance 5
Disciplines: Auspex 2, Celerity 2, Dominate 5, Obfuscate 3, Presence 4, Protean 2
Backgrounds: Contacts 5, Influence 2, Resources 5
Virtues: Conviction 4, Instinct 3, Courage 2
Morality: Path of Power and the Inner Voice 7
Willpower: 6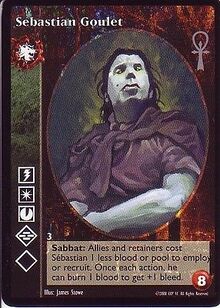 References
Edit
Montreal by Night, p. 96-97