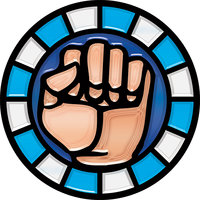 Primal allows a changeling to manipulate the forces of nature, from summoning the elements to communing with inanimate objects. It also gives power over the body, allowing a fae to harden his skin like tree bark, heal injuries, rip flesh apart and even shapeshift. Primal was first taught to the Kithain by the Inanimae, though the modern version of the Art is very different from Inanimae Slivers. The Art remains a common Art, associated with the simple and honest.
Cantrips
Edit
References
Edit
CTD: Changeling: The Dreaming Core Rulebook, page(s) 178-180
Ad blocker interference detected!
Wikia is a free-to-use site that makes money from advertising. We have a modified experience for viewers using ad blockers

Wikia is not accessible if you've made further modifications. Remove the custom ad blocker rule(s) and the page will load as expected.