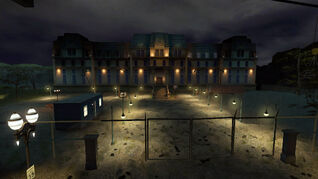 The Grand Ocean House Hotel is a long-abandoned haunted hotel in Santa Monica, and the site of a quest, "A ghost... at midnight", in the game Vampire: The Masquerade - Bloodlines. The quest is one of the most atmospheric and unnerving in the game. The closer the player comes to completing their task, the more violent the spirit behaves.
Therese Voerman
offers to call off her feud with
Bertram Tung
if the player agrees to help her remove a particularly burdensome spirit from a property she looks to invest in. Therese elaborates further to say three construction crews already refused to go back to work because they had been... spooked. Experiences within the Ocean House hotel range from voices, flying objects, apparitions, imprints, hazardous and unstable surroundings and lastly highly manifested "activity." The spirits will throw loose objects, so the player should remain aware as he or she progresses. The player will discover a series of newspapers strewn throughout the eerie establishment, highlighting the hotel's past. The closer the player comes to completing their task, the more violent the spirit behaves. A reappearing ghost subtly guides the player, attempting to protect them from the peril of the malevolent haunt.
Key items
Edit
Boiler Room key
Room key
Diary: Belonging to the wife of "Ed", the narrative tells a tale of jealousy between spouses and how it drives the husband to murderous insanity. Though Santa Monica's finest never solved the Ocean house killer case, this diary is an invaluable witness account to the events of the murders. The diary confirms that Ed was the Ocean House axe murderer. His wife, who remains unnamed, suffered a deadly entanglement with a controlling lover, subliminally telling players unhappy unions inevitably end in tragedy.
A child's drawing
Pendant (Ghostly bauble): Found resting on a small table, this item will put an end to the haunting of Ocean House Hotel. This is also the alleged trinket which sparked jealousy between Ed and his wife.
Aside from obvious conclusions of hotel staff, the only mentioned employee of Ocean House was the groundskeeper.
Ad blocker interference detected!
Wikia is a free-to-use site that makes money from advertising. We have a modified experience for viewers using ad blockers

Wikia is not accessible if you've made further modifications. Remove the custom ad blocker rule(s) and the page will load as expected.