Marcus Vitel
Talk

0
7,941pages on
this wiki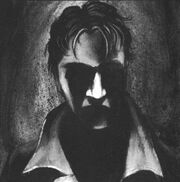 Marcus Vitel
is the public name of
Lucius Aelius Sejanus
, the Roman soldier who served as Emperor Tiberius' voice, secret policeman and enforcer. Embraced into the
Lasombra
, Sejanus travelled through Europe, until eventually arriving in America and voluntarily entering
torpor
. He rose again in
1954
finding that
Washington D.C.
had grown up around him, and took the identity of Marcus Vitellus, a
Ventrue
and former Roman Legionaire. The powerful Lasomba entered into a love/hate struggle with
Marissa
, the former prince of D.C. This culminated in Marissa's death and Vitel finding evidence that Marissa knew Vitel's unknown sire.
Vitel is a paranoid control freak of the first order, evidence that Marissa was involved with his sire, along with his acquisition of a magical clasp that makes it surprisingly easy for him to masquerade as a Ventrue (Lasombra do not cast reflections, but Vitel's clasp allows him to do so), as well as his rapid rise to power have all made him certain that he is the pawn in some deeper struggle. Vitel rules D.C. to a degree that no other Prince dares (although he does not control the U.S. government, the Camarilla would squash him if that happened), and is planning to use his influence to eventually launch a nuclear war that will allow him to reconstruct the world in his image.
Appearances
Edit
Appears in