Lucita de Aragon
Talk

7
7,830pages on
this wiki
Name:

Lucia de Aragon

Born:

1170 (Aragon, Spain)

Mother:

Urraca of León (?)

Father:

Alfonso I de Aragon

Embraced:
Clan:
Generation:

7th

Sire:
Childe(r):

Matteo (1206)

Alexander Van Drandt (1400-1500 approx)

Allegiance:
Rank:
Lucita de Aragon (a.k.a. Katherine Scott, Maria Cadamon) is a vampire of the Lasombra clan. Thanks to her fierce independence and preference for the Camarilla over the Sabbat, she was considered antitribu.
Originally a member of the Aragonese nobility in northeastern Spain, Lucita was always a rebel. Her sire, Ambrosio Luis Monçada, embraced her at the age of 17, though she soon became disgusted with both him and her clan, the latter after the formation of the Sabbat. Despite her rebellious nature, she is every inch a noblewoman, and feels the Lasombra lack true nobility, something she also feels has gone from the mortal world.
An accomplished warrior, she has worked for the Camarilla as an archon, and is justly feared and admired by Kindred of all sects. Her true loyalties however lie with her companions, the Malkavian Anatole and the Gangrel Beckett.
Later in her unlife, following the death of Archbishop Monçada, she became more attuned with the Sabbat, eventually abandoning her Humanity and picking up a Path of Enlightenment, namely the Path of Night.
Character Stats
Edit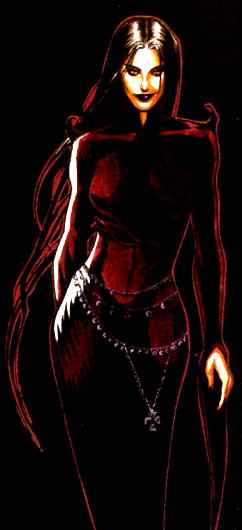 Nature: Rebel
Demeanor: Defender
Apparent Age: late teens/early 20s
Physical: Strength 5, Dexterity 4, Stamina 5
Social: Charisma 4, Manipulation 3, Appearance 4
Mental: Perception 4, Intelligence 3, Wits 5
Morality: Humanity 4
Willpower: 7
Alertness 2, Brawl 5, Dodge 4, Empathy 2, Expression 2, Grace 3, Intimidation 1, Leadership 4, Streetwise 1, Style 4, Subterfuge 4
Archery 2, Drive 2, Etiquette 4, Melee 4, Performance 3, Ride 2, Security 1, Stealth 4
Knowledges
Edit
Academics 3, Camarilla Lore 3, Investigation 3, Linguistics (you name it, she probably speaks it) 5, Occult 4, Politics 3, Sabbat Lore 3
Disciplines
Edit
Animalism 2, Celerity 3, Dominate 5, Fortitude 4, Obfuscate 3, Obtenebration 6, Potence 3, Protean 2, Serpentis 1
Backgrounds
Edit
Allies 2, Contacts 5, Herd 2, Influence 2, Resources 5, Sabbat Status 1, Status 1 Virtues: Conscience 3, Self-Control 3, Courage 4
Appears In
Edit
Found on http://www.white-wolf.com/Download/Pages/ClanNovels/lucita.html