Leukippes, as depicted in Tribebook: Black Furies revised
Name:

Leukippes

Gender:

Female

Born:
Death:

Presumably 600s BCE

Species:
Tribe:
Auspice:

Unknown

Breed:

Unknown

Allegiance:
Rank:

Ancestor Spirit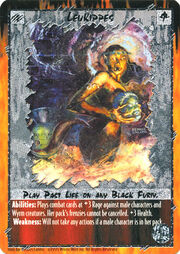 Leukippes was a great Black Fury. According to legend, she slew a corrupt priest of Apollo named Kamisos around 650 B.C.E.[1] She also fought in battle with her pack when the Scythians and Medes sacked Nineveh.[2]
References
Edit
Ad blocker interference detected!
Wikia is a free-to-use site that makes money from advertising. We have a modified experience for viewers using ad blockers

Wikia is not accessible if you've made further modifications. Remove the custom ad blocker rule(s) and the page will load as expected.