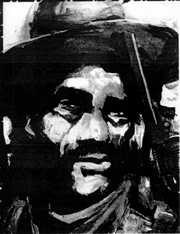 Hezekiah Blake is a Gurahl born in 1862 to Kinfolk parents.
Biography
Edit
In 1864, he and his parents settled in Wyoming, in what would later become the town of Tall Timbers. In 1875, the town is attacked and massacred by the Vinton Gang, and Blake underwent his First Change as a result. In 1879, he located the Vinton Gang in the town of Bear Lake, and killed them. He became the sheriff of Bear Lake, which prospered under him. [1]
References
Edit
Ad blocker interference detected!
Wikia is a free-to-use site that makes money from advertising. We have a modified experience for viewers using ad blockers

Wikia is not accessible if you've made further modifications. Remove the custom ad blocker rule(s) and the page will load as expected.