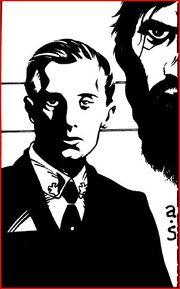 Felix Yusupov was a Silver Fang Kinfolk. He (allegedly) killed Rasputin on December 29, 1916.[1] However, it is unclear if he did, as several canon sourcebooks describe Rasputin as being a member of several supernatural groups, and as possibly faking his death. See the Rasputin article for more information.
For information on the real person, please see Wikipedia:Felix Yusupov.
References
Edit
Ad blocker interference detected!
Wikia is a free-to-use site that makes money from advertising. We have a modified experience for viewers using ad blockers

Wikia is not accessible if you've made further modifications. Remove the custom ad blocker rule(s) and the page will load as expected.