Dust to Dust is a story supplement using the Storytelling Adventure System designed for use with VTM: Vampire: The Masquerade 20th Anniversary Edition

. It acts as a spiritual successor to the first story ever published for Vampire, VTM: Ashes to Ashes

, as well as the Forged in Steel chronicle that began in the original Vampire: The Masquerade Rulebook. It includes all the characters and information you need to tell a complete story, as well as notes from the Wrecking Crew, the demo team that ran the story at The Grand Masquerade 2011 in New Orleans.
From the White Wolf catalog:
Background Information
Edit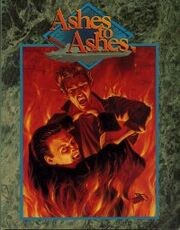 This book is a sequel to 1991's VTM: Ashes to Ashes , one of the very first story supplements for Vampire: The Masquerade. Rather than use the standard SAS landscape format designed for modern computer screens, the decision was made to mimic the design of the original book, seen to the right. Although the basic layout is done to match the V20 standard, many elements — the blue border, the yellow-to-orange title text gradient — came from the original book.
VTM: Ashes to Ashes, p. 59 says "Additionally, elements of this plot will be progressed further in a future supplement, Dust to Dust™." Dust to Dust author Matthew McFarland was unaware of this.
Characters
Edit
Ad blocker interference detected!
Wikia is a free-to-use site that makes money from advertising. We have a modified experience for viewers using ad blockers

Wikia is not accessible if you've made further modifications. Remove the custom ad blocker rule(s) and the page will load as expected.