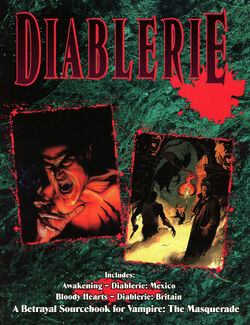 Awakening: Diablerie Mexico Credits
Written by:
Nigel Findley
Editing:
Rob Hatch
Development:
Andrew Greenberg
Layout:
Sam Chupp
Production:
Josh Timbrook
Maps:
Brian Blume
Artists:
Sam Inabinet, John Cobb, Seri Mohm, Josh Timbrook, Richard Thomas
Cover:
Jeff Starling
Back Cover:
Chris McDonough
Vampire: The Masquerade was created by Mark Rein•Hagen
Special Thanks To:

Mark "Next Week" Rein•Hagen, for his efforts to get Werewolf out to playtesters in time.

Stewart "Judge Automaton" Wieck

, for being so Dreddful in four square.

Ken "Fisherman" Cliffe

, for not finding his fauna among the local flora.

Josh "Whine, Whine, Whine" Timbrook, for having to abandon The Masquerade at 2 a.m.

Andrew "Bring 'em back alive" Greenberg, for saving Josh and Wes from all those bloodthirsty Georgia peaches and getting them home by their bed time (whine. .. whine ... whine)

Wes "Fixer" Harris

, for bringing his waterpump bill from $280 to $20.

Sam "Dark Foe" Chupp, for turning evil while worming his way to the kingship.

Rob "Hypochondriac" Hatch, for saving up all his illness until he came to work for us.

Chris "Walkies" McDonough, for knowing how to get us worried in Werewolf.

Travis "Hunt and Peck" Williams

, for getting his

Ars Magica

work done so close to the deadline.

Brian "The Whiz" Blume, for cranking on some jammin' cartography.
Bloody Hearts: Diablerie Britain Credits
Written by:
Dustin Browder
Developed by:
Andrew Greenberg
Edited by:
Robert Hatch
Layout & Typesetting:
Sam Chupp
Art:
Joshua Gabriel Timbrook, Tom Berg, Craig Maher, Drew Tucker
Art Director:
Richard Thomas
Front Cover Art:
Doug Gregory and Sherilyn Van Valkenburgh
Back Cover Art:
Michelle Prahler
Special Thanks To:
Diablerie is a collected sourcebook of Awakening: Diablerie Mexico and Bloody Hearts: Diablerie Britain for Vampire: The Masquerade.
From the White Wolf Catalog:
A Taste That's To Die For....
Over and Over Again
Diablerie combines the most dangerous adventures ever published for Vampire: The Masquerade: Awakening and Bloody Hearts. Finally, characters have the chance to taste the blood of the Methuselahs - and gain immeasurable power!
But at what price? There are worse things than Final Death.
Diablerie features:
Two of the first Vampire story supplements combined under one new cover.
Complete stories about the hunt for the dreaded Methuselahs, and the chance to diablerize!
A look at Gehenna and how diablerie hastens its coming.