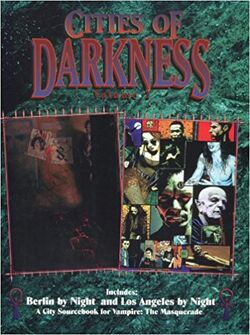 Berlin by Night Credits
Written by:
James A. Moore
Consultants:
Ingeborg Keller Moore and Franziska Valena Holz
Developed by:
Andrew Greenberg
Edited by:
Greg Rucka
Art Director:
Richard Thomas
Layout & Typesetting:
Sam Chupp
Art:
Josh Timbrook, Ken Meyer, Jr., E. Allen Smith, Larry Schnelli, John Bridges
Front Cover:
George Pratt
Back Cover:
Michelle Prahler
Special Thanks To:

Wes "Questionable Intent" Harris

, for promising Josh a special present.

Josh "

Shot of Red Eye"

Timbrook

, for his post-Nocturnia glow.

Travis "Guru" Williams

, for spreading the true way on the net.

Rene "Couch Potato" Lilly

, for using Andrew's couch in that sick and twisted way - imagine, sleeping on it!

William "Blue Blood" Hale

, for being published in the magazine with all the pretty pictures.

Lyndi "Steel-Tipped" Hathaway-McKeenan

, for telling the doctor what she's gonna wear next time he breaks out the needle.

Rebecca "Ska'd for Life" Schaefer

, for enjoying the finer things in life.

Danny "Mailing" Landers

, for amusing the retailers just in time for Christmas.

Michael "Newbie" Krause

, for not knowing what he was getting into. Ha ha ha ha ha ha ha ha ha ha ha ha.
Los Angeles by Night Credits
Written by:
Noah Dudley
Additional Material by:
Nancy Bermen
Developed by:
Andrew Greenberg
Edited by:
Jennifer Clarke Wilkes
Layout & Typesetting:
Kathleen Ryan
Art:
Tom Berg, Dave Fooden, Matt Haley, Joshua Gabriel Timbrook
Art Director:
Richard Thomas
Front Cover Art:
Tim Bradstreet
Cover Design:
Lawrence Snelly
Production Assistance:
Matt Milberger
Special Thanks To:
Cities of Darkness Volume 2 is a collected sourcebook for Vampire: The Masquerade.
From the White Wolf Catalog:
Out of the Frying Pan...

City life crushes out spirit. Traffic. Crime. Corruption. Inhumanity. Rumors and legends abound as we strive to cope each horror and save what's left of our identities, before we become the monsters that stalk the urban sprawl. But for some it's too late. The legends are true. The monsters are real. They are among us.
Into the Fire

Cities of Darkness Volume 2 combines the early and hard-to-find Vampire supplements Berlin by Night and Los Angeles by Night. A world apart, these cities are united in their fight for freedom, Berlin from under mortal domination, and L.A. from under vampire rule. It's a free-for-all and only the most powerful undead will reign - or even survive.
Cities of Darkness Volume 2 features:

One more shot at these rare Vampire supplements.
All the nocturnal duplicity, double-dealing and double talk of a divided city made whole again when the Wall came crumbling down.
Your tour of the Anarch Movement's crowning achievement.
Ad blocker interference detected!
Wikia is a free-to-use site that makes money from advertising. We have a modified experience for viewers using ad blockers

Wikia is not accessible if you've made further modifications. Remove the custom ad blocker rule(s) and the page will load as expected.