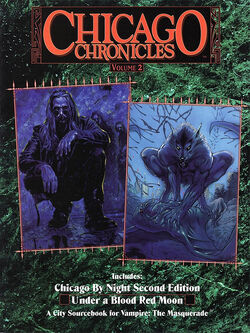 Chicago by Night Credits
Written by:
Andrew Greenberg
Geography by:
Steve Crow
Additional Characters by:
Kara Chappell, Robert Hatch
Developed by:
Andrew Greenberg
Edited by:
Robert Hatch, Graeme Davis
Concepts:
Steven Brown, Andrew Greenberg, Josh Timbrook
Chicago Consultant:
René Lilly
Art Director:
Richard Thomas
Front Cover:
Doug Gregory
Layout and Typesetting:
Sam Chupp, Michelle Prahler
Maps:
Chris McDonough, Rob Dixon, Margaux Schaffer
Art:
Timothy Bradstreet, Josh Timbrook, Richard Thomas, Steve Casper, Jesper Myfors, Robert MacNeil
Coterie Charts:
Chris McDonough
Back Cover:
Chris McDonough
Special Thanks To:

Mark "Does Dallas" Rein•Hagen

, for his Texas weekends.

Stewart "Home Alone, Too" Wieck

, for his work on important projects.

Andrew "Arm in Arms" Greenberg

, for his hallway walks with Benjamin.

Ken "Interruptus" Cliffe

, for his amazing ability to get work down around the printer congregation in his office.

Josh "I'm a Bum" Timbrook

, for his excuse for not taking out the piles of garbage.

Wes "Dataman" Harris

, for his inpu, output and put-put.

Rob "Eviscerator" Hatch

, for what he's gonna do to the !?@#$% who stole his hubcaps.

Rene "Seduction of Innocence" Lilly

, for dragging the unsuspecting to the Dead whether they like it or not.

Travis "Jacques" Williams

, for coming up with really scary

Setite

names. Ooh, I'm so frightened.

Richard "Flip Flip Flip" Thomas

, for being such a

Mille Borne

-head.

Sam "Ground Hog" Chupp

, for chopping it up on

Feb. 2

.

Chris "Spelling Bee" McDonough

, for killing two (or more) words with one book.

William "'Bama Boy" Hale

, for the fun he had in Stew's state.

Bill "Howlin' Party Wolf" Bridges

, for his favorite new toy.

Benjamin "Glory Questor" Monk, Jr.

, for knowing how to send his weekends — and what computer games to play in the meantime.

Lyndi "Bathroom Floor" Hathaway

, for knowing where to sleep when it happens.

Michelle "Whacker" Prahler

, for taking it to the bozos in her department.
Under a Blood Red Moon Credits
Author:
Steven C. Brown
Development:
Bill Bridges, Andrew Greenberg
Editing:
Robert Hatch
Art Direction:
Richard Thomas
Interior Art:
Jeff Rebner, Dan Smith, Joshua Gabriel Timbrook, Ron Spencer
Cover Art:
Tony Harris
Layout:
Sam Chupp
Back Cover Design:
Chris McDonough
Special Thanks To:

Travis "The Whining Game" Williams

for not being cultured about the Oscars - and for ruining the secret!

William "It's not a twist-off now!" Hale

for the battle with the IBC bottlecap.

Rob

"War Wound"

Hatch

, for losing a previous battle with the infamous IBC bottlecap.

Benjamin "Belly Butt(on)" Monk Jr

. for his giggling, jiggling jello.

Lyndi "Psycho-historian" Hathaway

, for her cannibalistic discussion at the fast food joint.

Mark "Stubbles" Rein•Hagen

for cutting his hair short again. Is bald in now?

Stewart "Mu Shu Pork" Wieck

, for actually eating that gross "thing" run over by a truck.

Andrew "Bad Brains" Greenberg

, for his superhero character and the show he's going to.

Ken "Linoman" Cliffe

, for doing what must be done for ArM.

Rene "Miracle Ticket" Lilly

, for standing in line so others can see the Dead.

Josh

"Totalitarian"

Timbrook

, for his paranoid political pundicism about Babylon 5.

Richard

"Geyser"

Thomas

, for spewing "prune-juice" at lunch.

Chris

"T- 1000"

McDonough

, for fully supporting James Cameron's mega-million dollar deal against all the Hollywood nay-sayers.

Sam

"The Judge"

Chupp

, for judging the First warehouse Chair Race.

Wes "Platoon Leader" Harris

for bringing his army to Army of Darkness.

Michelle "It's Scary" Prahler

, for wimping out on Army of Darkness opening night.
Chicago Chronicles Volume 2 is a collection of previously published sourcebooks printed into one book for Vampire: The Masquerade. It includes Chicago By Night Second Edition and Under A Blood Red Moon.
From the White Wolf Catalog:
City Under Siege

It took years for Chicago's vampires to build their undead empire. Schemes were concocted, alliances were forged and the defeated were staked and left out for the sun. Chicago was firmly in the clutches of powerful Kindred... but no more. Werewolves, the mortal enemies of the undead, have sprung forth from the wilds to rid the city of its nocturnal corruption. The prince is dead. All hell has broken loose. How long before you face Final Death... or seize power?

Ravaged by Tooth and Claw

Chicago Chronicles Volume 2 is a compilation of two classic Vampire: The Masquerade sourcebooks: Chicago By Night Second Edition and Under A Blood Red Moon. Previously out of print and almost impossible to find, these books are now repackaged under a new cover. Volume 2 picks up where Volume 1 leaves off, continuing the tale of the War for Chicago, once fought among Kindred but now waged between Kindred and Garou.
Chicago Chronicle Volume 2 Features:

Two classic Vampire sourcebooks: Chicago By Night Second Edition and Under A Blood Red Moon, two of the books that established the world of Vampire.
The next chapter in the epic fall of Chicago. No vampire is safe, neither from invading werewolves nor from one another. The time for glory or destruction has come.
Decide the fate of a complete city setting. Nothing lasts forever.