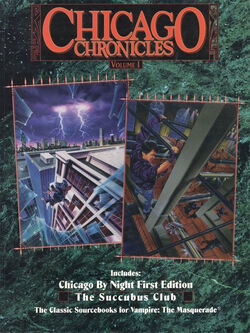 Chicago by Night Credits
Written by:
Mark Rein•Hagen (Introduction), Andrew Greenberg (Characters, Encounters and History Chapters), Steve Crow (Geography Chapter), with Josh Timbrook, Travis Lamar Williams, and Chris McDonough (Encounters), Stewart Wieck (Characters)
Concepts:
Mark Rein•Hagen, Andrew Greenberg, Josh Timbrook, Stewart Wieck
Development:
Mark Rein•Hagen, Andrew Greenberg
Editing:
Graeme Davis, Andrew Greenberg
Proofreading:
Stewart Wieck
Layout:
Nicole Lindroos
Maps:
Chris McDonough, Rob Dixon, Margaux Schaffer
Art:
Tim Bradstreet, Josh Timbrook, Richard Thomas, Ron Spenser, Craig Cartwright
Vampire: The Masquerade was created by:
Mark Rein•Hagen
Special, Special Thanks!

Mark "That's not my job" Rein•Hagen, for being the consummate delegator and enjoying it totally.

Stewart "I don't think that's a good idea" Wieck, for keeping us within the law.

Andrew "I can't believe you're gonna edit that" Greenberg, for not going buck wild when all his ideas didn't see final print.

Travis "Day in, day out" Williams

, for being there for us whether we want him to be or not

Nicole "Travis, if you don't get out of my office, I'm going to kill you!" Lindroos, for showing restraint and not strangling the company's "Token Black".

Josh "Pork Shank" Timbrook, for ordering a meal for a

king and eating like a pauper.
Chris "1'11 have those maps to ya tomorrow, really!"

McDonough, for getting hitched at just the right time.

Wes "Mac Daddy" Harris

, for providing us with all the rhythmic beats to which we missed release dates.

Ken "Who's the Mac?" Cliffe

, for showing us lightweights how it's really done.
Succubus Club Credits
Written by:
Andrew Greenberg, Graeme Davis, Bill Bridges, Lisa Stevens, Nigel Findley, Steve Crow
Concepts:
Joshua Gabriel Timbrook, Mark Rein•Hagen, Andrew Greenberg
Development:
Mark Rein•Hagen, Andrew Greenberg
Editing:
Andrew Greenberg
Production:
Sam Chupp, Joshua Gabriel Timbrook
Layout:
Sam Chupp
Cartography:
Eric Hotz
Cover:
Clark Mitchel
Chapter Full Page Art:
Janet Aulisio
Art:
Janet Aulisio, Josh Timbrook, Craig Cartwright, Dave Miller, Gail Van Voorhis, Bill Bridges, John Cobb, Tony Santo
Vampire: The Masquerade was created by:
Mark Rein•Hagen
Special Thanks to:

Mark "Muscles" Rein•Hagen

, for his sincere love of the gym.

Stewart "I have your soul" Wieck

, for knowing how to really keep people in line.

Andrew "Amateur Astronomer" Greenberg

, for dragging Mark out to see the meteor shower - on a cloudy night.

Josh "Virgin Blood" Timbrook

, for for showing us how the real Blood Dolls do it.

Sam "Tarot Card" Chupp

, for not relying on his friends to make his own bad decisions.

Wes "Onion Blossom" Harris

, for never failing to be unique.

Travis "I won, I won!!!" Williams

, for displaying more patience than anyone though possible.

Chris "Peon senior" McDonough

, for his raconteuring skills (and lack thereof).

Ann "Maui Wowee" McDonough

, for taking Chris off the market (finally!).

Clark "No-name" Mitchell

, for not killing us after forgot to credit him in

Chicago by Night

for that stunning cover.

Ken "Mask of Midnight" Cliffe

, for vetoing our (and better) thanks to him.

Dedication:
This supplement is dedicated to Frank Zappa. Don't let the Central Scrutinizer get you.
Chicago Chronicles Volume 1 is a collection of previously published sourcebooks printed into one book for Vampire: The Masquerade.
From the White Wolf Catalog:
Revisit the Windy City....

Journey to Chicago, bustling metropolis by day and vampire domain by night. Now you can return to the city that started it all, whether as a new vampire struggling for survival on the mean streets, or an ancient elder playing the centuries-old games of power in the Elysiums.

By Night

Chicago Chronicles Volume 1 is a compilation of two classic Vampire: The Masquerade sourcebooks: Chicago by Night First Edition and The Succubus Club. Previously out of print and nearly impossible to find, these books are now repackaged under a new cover. Together, they renew the chronicle that defines Vampire - The War for Chicago
Chicago Chronicle Volume 1 Features:

Two classic Vampire sourcebooks: Chicago by Night First Edition and The Succubus Club reprinted and available again after years out of print.
The beginning of an epic story of intrigue, warfare and survival among the vampires of Chicago.
A look at a complete city setting for your nights spent as the undead

Chicago is where it all started... and may end.
Ad blocker interference detected!
Wikia is a free-to-use site that makes money from advertising. We have a modified experience for viewers using ad blockers

Wikia is not accessible if you've made further modifications. Remove the custom ad blocker rule(s) and the page will load as expected.