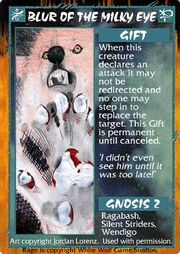 Blur of the Milky Eye is a level 1 Ragabash, Silent Striders, and Wendigo Gift. The Garou's form becomes a shimmering blur, allowing him to pass unnoticed among others. Once the Garou has been seen, however, this Gift is negated until the viewer has again been distracted. A chameleon-spirit teaches this Gift.
Ad blocker interference detected!
Wikia is a free-to-use site that makes money from advertising. We have a modified experience for viewers using ad blockers

Wikia is not accessible if you've made further modifications. Remove the custom ad blocker rule(s) and the page will load as expected.