Blood-on-the-Wind, as he appears in Rage Across Russia.
Name:

Blood-on-the-Wind

Gender:

Male

Death:
Species:

Garou

Tribe:

Wendigo

Auspice:

Galliard

Breed:

Lupus

Sept:
Title(s):

Sept Leader

Allegiance:

Gaia

Rank:

Elder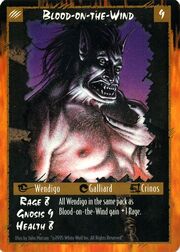 Blood-on-the-Wind was an Elder male Lupus Wendigo Galliard, and the leader of the Sept of the Siberian Wilds.[1] In 1995, he was slain on his way to act as ambassador to the House of the Crescent Moon. The Wendigo refused to have anything to do with the Silver Fangs and the other Garou of Russia from then on.[2]
References
Edit
Ad blocker interference detected!
Wikia is a free-to-use site that makes money from advertising. We have a modified experience for viewers using ad blockers

Wikia is not accessible if you've made further modifications. Remove the custom ad blocker rule(s) and the page will load as expected.